Caroline Coatney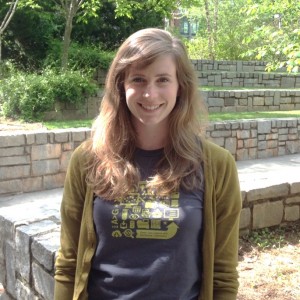 After coming to the University of Georgia through the
Integrated Life Science
graduate umbrella program and doing rotations in the Genetics and Plant Biology departments, Caroline joined the Dawe Lab in the spring of 2013. Before graduate school, she graduated from Knox College with a B.A. in biology and environmental studies and also spent a year as a science writer for the Illinois state legislature. For her graduate research, Caroline is interested in sustainable agriculture, specifically how transitioning from annual crops to perennial crops may improve the sustainability of current agricultural practices. She is researching the genetic mechanism of perenniality in wild crop relatives, specifically teosinte, a perennial relative of corn. She is currently developing a genetic mapping population using corn and teosinte hybrids and hopes to produce a perennial QTL map and molecular markers by the time she graduates with her Master's degree in May 2015.
Caroline also has a strong interest in science communication with an emphasis on agricultural biotechnology. She uses social media to advocate for biotech awareness and general science literacy by contributing articles to the blog 
Biology Fortified, Inc.
 and tweeting her opinions and relevant informational resources. You can follow her on Twitter at 
@cgcoatney
.​